"Exotic pleasure"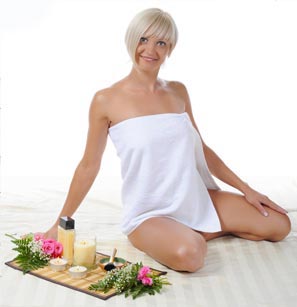 Duration:
short course - 1,5 hours
ful course - 2 hours
course for two - 3 hours
Steps of the program:
You can choose sauna or Jacuzzi and pick an amazing aroma from next list:

Eastern confection
Sweet talent
Jasmine queen
Charming gardenia
rose

Luxurious treatment for your body include Body scrub "Carrabolla" and "Wild gooseberry" with golden sugar
Nutrition spa treatment for face with tamarind and honey
Foot aroma – massage "Soft grass"
Green tea or tea with healing herbs
It is advised to repeat treatment 1-2 times per week:
You will enjoy authentic and deluxe body treatment.
Benefits:
Eliminating of dead cells
Revitalizing of skin
Restoration of harmony
Stimulation of skin receptors
---
Prices vary. Full price list is presented below:
Duration
Price
before 11.00 p.m.
Price
after 11.00 p.m.
1,5 hour
3550 rub.
4300 rub.
2 hour
4950 rub.
5250 rub.
3 hour (for couples)
12150 rub.
13950 rub.